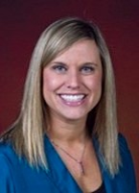 Kylee Hope, JD
Kylee Hope currently serves as the director of the Division of Disability and Rehabilitative Services (DDRS) for the Indiana Family Social Services Administration.  Prior to her current position, Kylee served as the Director of the Bureau of Rehabilitation Services.  Kylee previously worked in a variety of capacities involving disability and public policy; specifically, she worked for Ball State University, Indiana University School of Medicine, and the Indiana Department of Education, Office of Special Education.
Kylee has a bachelor's degree in special education from Purdue University and a Juris Doctorate from Indiana School of Law-Indianapolis.  She has a teaching license and is admitted to practice law in both districts in Indiana. 
Kylee's demonstrated professional experience has given her a comprehensive perspective on a variety of aspects that impact individuals with disabilities.  Her entire career has been dedicated to working on increasing opportunities for individuals with disabilities to have healthier, more self-sufficient, and independent lives.
Back to Keynote Sessions